Industrial felt sewn on stretcher panels mounted on armature in gallery space 240x548x16cm (corpus) 2010
A commissioned artwork for Kienzle Art Foundation willing to dim the street outside the gallery's large shop window front – simply I decided to do just a little bit more.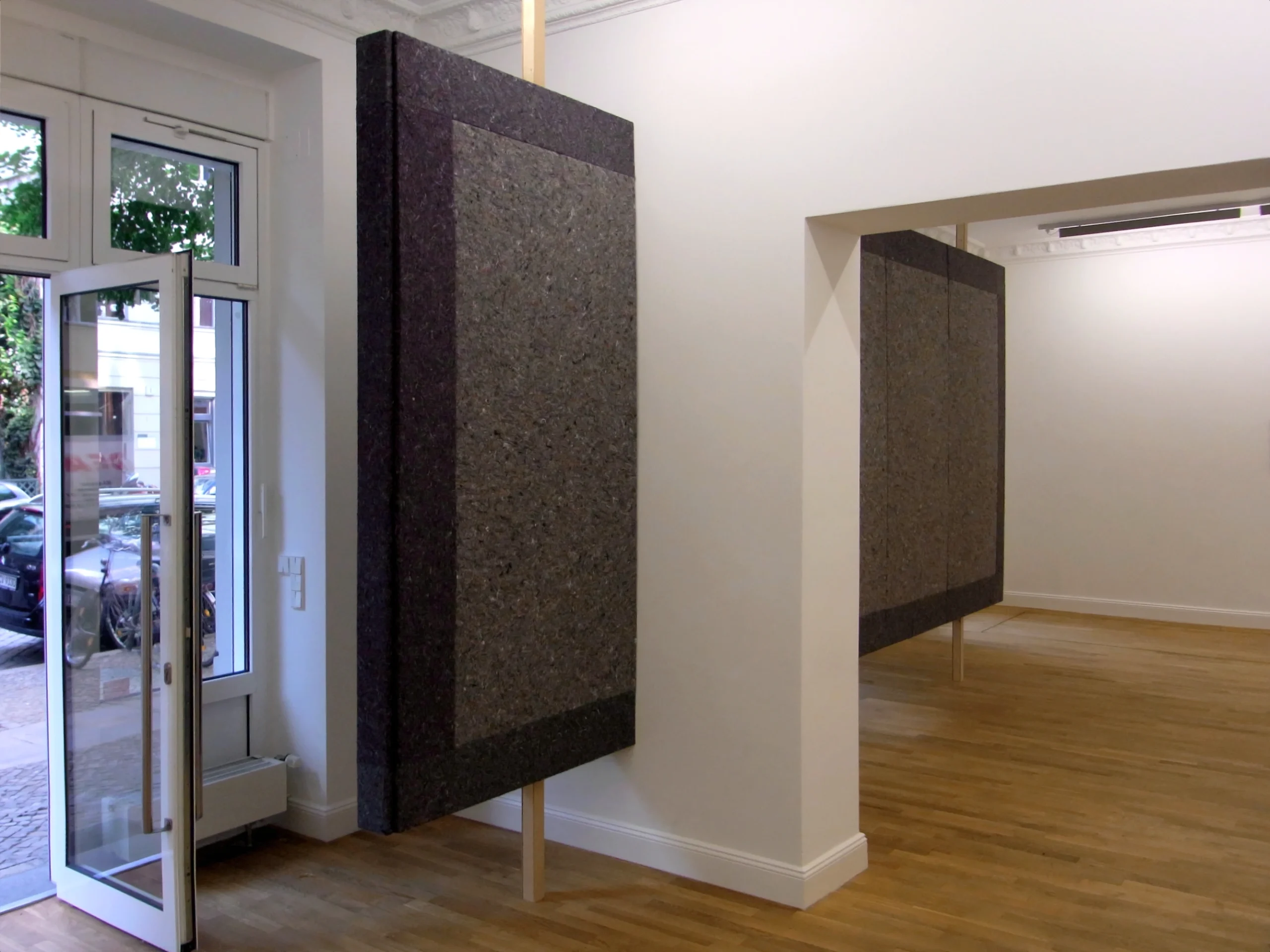 A partition wall, a pictorial structure, a …
The tightly sewn and stretched industrial felt mounted on a wooden support and installed in the exhibition rooms in such a way that it completely alters the viewer's spatial perception. The gallery spaces are expanded in several ways: enlarged through merging, increased in numbers, and detached from the architecture of the building, thus transformed to an experiential space.
The sculpture lends itself to carry and exhibit other artworks as well. When reading the work, each modest individual restraint embodied in the composition reveals itself rather as an artistic assertion. Free of irony, devoid of polemics, in simply being there this setting also points to the fact of alternative realities – as an individual space of imagination, negotiable. A wall to truly connect, not divide. In sharpest contrast to, say, a pre-political trench, if you know what I mean. (EZ)
In other's words:
"das Heterogene und Disparate, die Schwebelagen und Bruchstellen in den Bildern und Objekten" / "the heterogeneous and disparate, the suspended layers and fractures in the images and objects" (Hans-Jürgen Hafner)
And:
The collection is open to the most current artistic tendencies: Specifically developed for the foundation, Elmar Zimmermann clearly crosses the border between autonomous artwork and its pragmatic functionalisation in his installation-sculpture Eine Wand (2010). On the one hand, the artist continues his analytical interrogation of image and space, while on the other hand, he presents a device for displaying the historic material incorporated in the show. (Daniel Kletke)
This:
Zimmermann's voluminous intervention Eine Wand, made of tautly stretched grey industrial felt with coloured textile inclusions mounted onto a wooden support, completely alters the spectator's spatial perception. The object's three-dimensional supremacy lies in the contrast between the soft felt and the massive geometrical rigor of the elemental cube: Gravitation and its counterforces face each other in a quiet equilibrium. A challenge to seeing and understanding, because both offer imaginative scope in their works with few means, despite all their conceptual rigour, in which the viewer himself is called upon to make sensory experiences of high aesthetic power. The possibilities of effect and standards of the reception of art that they propose are thus kept categorically in abeyance. For a collection whose central mission it is to communicate art, this approach is in effect paradigmatic. (Eric Aichinger)