Group show by George Barber
with David Edward Allen, Lucio Auri, George Barber, Michael Kirkham, Marco Meiran, Vincent Tavenne, Ina Weber, Elmar Zimmermann
at Wall Street English Berlin
Opening 28 October 2016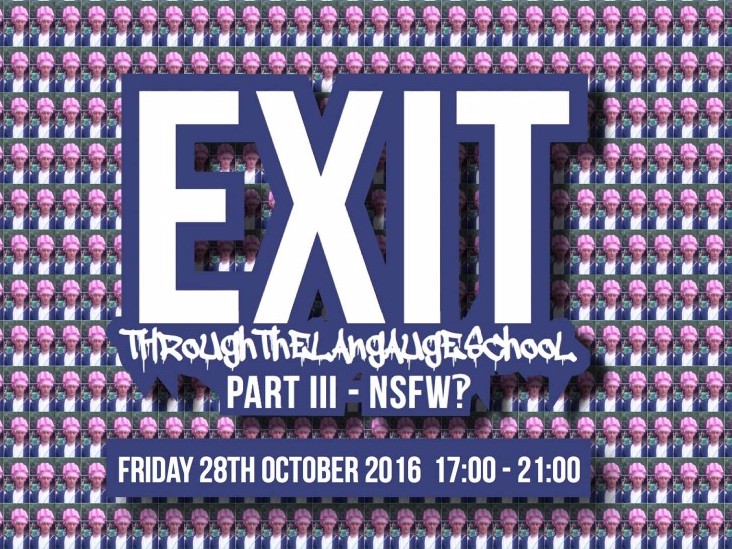 Exit Through The Language School
Part III – NSFW‽
on Friday 28th October from 17:00 to 21:00.
Dear  friends,
I am delighted to invite to the next and penultimate event of our Exit Through The Language School season.
It is a privilege for ETLS to present new work, old friends and former colleagues.
Exhibition – Belching Butterfly
David Edward Allen, Lucio Auri, George Barber, Michael Kirkham, Marco Meiran, Vincent Tavenne, Ina Weber, and Elmar Zimmermann will present work in a group show.
Reading – Maurice Frank
Maurice Frank is a co-founder and co-publisher of Exberliner Magazine. He will present unpublished fiction.
exberliner.com
From 18:00
Music – Herdwhite
Herdwhite is a experimental rock band with Matthias Grote (Guitars) Hugo Reydet (Electric Contrabass/E-bass) Andrew Pegram (Vocals). At ETLS#3 they will play a semi-acoustic set.
herdwhiteband.com
From 19:30
The front door on Chaussestrasse will be closed from 18:00.  Afterwards, please use the entrance to Edison Höfe at Invalidenstraße 117 and take the first right when you are in the courtyard.
Due to the expected number of visitors please reply to me or to berlin2@wallstreetenglish.de if you plan to come.  I will need to buy enough food and drink!
Please note that this intended to be an event for adults. Children may find some of the material confusing. Please contact me directly if you have any questions.
Please follow us on Facebook for ETLS#3 updates, news of our closing party in December (title: Encounter 69), and any post-WSE events.
Sincere thanks to all the participants and the staff of WSE Mitte for making this event possible. I very much look forward to welcoming all of you to this event!
Best regards,
Ryan
Ryan O'Shea
Service Manager
Wall Street English
WSI Education GmbH
Chaussestrasse 18
10115 Berlin